Wyle the Chicken Farmer
Read Wyle's Profile.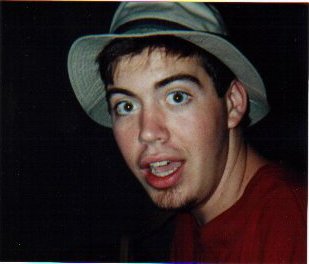 Wyle Fox is my roomate at college. He's lived in Arkansas his entire life. He and I met at the Honors Symposium in the summer of '98. He's perhaps the only person I've met who is genuinely odder and more disoriented than me. (Now THAT is scary!) Wyle's an all around good guy and a loyal friend. He started out as an undecided major, made a hasty decison to go into pre-pharmacy [?], hated it and is currently majoring in psychology [?] at Harding University in Searcy, Arkansas. He's supposedly one of the 40 most intelligent freshmen at this university, but a few of us are looking into that. *hehe*

See another picture of Wyle here.

Read a poem I wrote with Wyle in it.